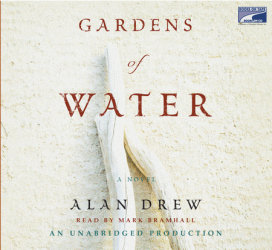 Gardens of Water
A Novel
Imprint: Books on Tape
Genre: Fiction - Literary

Release Date: February 26, 2008
11 Hours and 17 Minutes
List Price: $95
ISBN: 9781415946763
In a small town outside Istanbul, Sinan Basioglu, a devout Muslim, and his wife, Nilüfer, are preparing for their nine-year-old son's coming-of-age ceremony. Their headstrong fifteen-year-old daughter, İrem, resents the attention her brother, Ismail, receives from their parents. For her, there was no such festive observance. But even before the night of the celebration, İrem has started to change–due to her secret relationship with their neighbor, Dylan, the seventeen-year-old American son of expatriate teachers.

İrem sees Dylan as the gateway to a new life, one that will free her from the confines of conservative Islam. Yet Sinan's growing awareness of their relationship affirms his wish to move his family to the safety of his old village, a place where his children would be sheltered from the cosmopolitan temptations of Istanbul. But when a massive earthquake hits in the middle of the night, the Basioglu family is faced with greater challenges. Losing everything, they are forced to forage for themselves, living as refugees in their own country. And their survival becomes dependent on their American neighbors, to whom they are unnervingly indebted.

As love develops between İrem and Dylan, Sinan makes a series of increasingly dangerous decisions that push him toward a betrayal that will change everyone's lives forever.