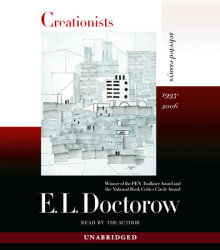 Creationists
Selected Essays, 1993-2006
Imprint: Books on Tape
Genre: Literary Collections - Essays

Release Date: September 19, 2006
4 Hours and 33 Minutes
List Price: $42.80
ISBN: 9780739346419
E. L. Doctorow is acclaimed internationally for such novels as Ragtime, Billy Bathgate, and The March. Now here are Doctorow's rich, revelatory essays on the nature of imaginative thought. In Creationists, Doctorow considers creativity in its many forms: from the literary (Melville and Mark Twain) to the comic (Harpo Marx) to the cosmic (Genesis and Einstein). As he wrestles with the subjects that have teased and fired his own imagination, Doctorow affirms the idea that "we know by what we create."

Just what is Melville doing in Moby-Dick? And how did The Adventures of Tom Sawyer impel Mark Twain to radically rewrite what we know as Huckleberry Finn? Can we ever trust what novelists say about their own work? How could Franz Kafka have written a book called Amerika without ever leaving Europe? In posing such questions, Doctorow grapples with literary creation not as a critic or as a scholar–but as one working writer frankly contemplating the work of another. It's a perspective that affords him both protean grace and profound insight.
Among the essays collected here are Doctorow's musings on the very different Spanish Civil War novels of Ernest Hemingway and André Malraux; a candid assessment of Edgar Allan Poe as our "greatest bad writer"; a bracing analysis of the story of Genesis in which God figures as the most complex and riveting character. Whether he is considering how Harpo Marx opened our eyes to surrealism, the haunting photos with which the late German writer W. G. Sebald illustrated his texts, or the innovations of such

literary icons as Heinrich von Kleist, Harriet Beecher Stowe, and Sinclair Lewis, Doctorow is unfailingly generous, shrewd, attentive, surprising, and precise.
In examining the creative works of different times and disciplines, Doctorow also reveals the source and nature of his own artistry. Rich in aphorism and anecdote, steeped in history and psychology, informed by a lifetime of reading and writing, Creationists opens a magnificent window into one of the great creative minds of our time.