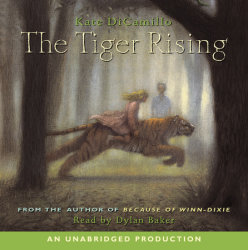 The Tiger Rising
Imprint: Listening Library
Grades: Grade 5 & Up
Ages: 10 and up
Release Date: April 22, 2008
2 Hours and 12 Minutes
List Price: $20.40
ISBN: 9780739360729
Categories:
Juvenile Fiction - Animals - Lions, Tigers, Leopards, etc., Juvenile Fiction - Social Themes - New Experience, Juvenile Fiction - Social Themes - Emotions & Feelings
Tags:
animals, friendship, realistic fiction, florida, tigers, death, grief, ya, bullying, young adult, adventure, children's, tiger, children's literature, juvenile, loss, fantasy, children's fiction, children, coming of age, kids, family, kate dicamillo, grl t, juvenile fiction, family members, youth, friends, emotions, school
"The Tiger Rising is a lush, exotic little gem–this writer's a keeper."–Karen Hesse, Newbery Medal-winning author of Out of the Dust

Walking through the misty Florida woods one morning, twelve-year-old Rob Horton is stunned to find a tiger–a real-life, very large tiger–locked in a cage. What's more, on the same extraordinary day, he meets Sistine Bailey, a girl who shows her feelings as readily as Rob hides his. As they learn to trust each other and, ultimately, to be friends, Rob and Sistine prove that some things–like memories, and heartache, and tigers–can't be locked up forever.