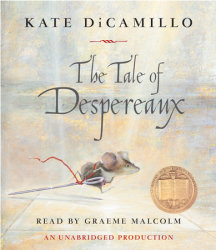 The Tale of Despereaux
Being the Story of a Mouse, a Princess, Some Soup and a Spool of Thread
Imprint: Listening Library
Grades: Grades 2-5
Ages: 7-10 years
Release Date: April 24, 2007
3 Hours and 32 Minutes
List Price: $19.99
ISBN: 9781400099139
Categories:
Juvenile Fiction - Animals - Mice, Hamsters, Guinea Pigs, etc., Juvenile Fiction - Fairy Tales & Folklore - General, Juvenile Fiction - Fantasy & Magic
Tags:
fantasy, mice, animals, adventure, mouse, princess, children's, children, fairy tale, rats, fairy tales, love, soup, children's literature, bravery, juvenile, courage, children's fiction, ya, kids, young adult, friendship, juvenile fiction, dungeon, forgiveness, castles, light, animal, family, kate dicamillo
This is the story of Desperaux Tilling, a mouse in love with music, stories, and a princess named Pea. It is also the story of Miggery Sow, a slow-witted serving girl with a simple, impossible wish. These characters are about to embark on a journey that will lead them down into a horrible dungeon, up into a glittering castle, and ultimately, into each other's lives.

And what happens then?

Listeners, it is your destiny to find out.