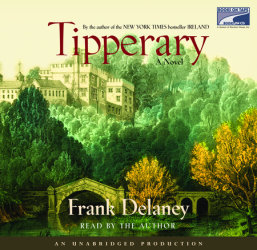 Tipperary
A Novel of Ireland
Imprint: Books on Tape
Genre: Fiction - Historical - General

Release Date: November 06, 2007
16 Hours and 47 Minutes
List Price: $95
ISBN: 9781415940112
Born into a respected Irish-Anglo family in 1860, Charles O'Brien loves his native land and its long-suffering but irrepressible people. As a healer, he travels the countryside dispensing traditional cures while soaking up stories and legends of bygone times.

At the age of forty, summoned to Paris to treat his dying countryman–the famous and infamous Oscar Wilde–Charles experiences the fateful moment of his life. In a chance encounter with a young Englishwoman, eighteen-year-old April Burke, he is instantly and passionately smitten–but callously rejected. Vowing to improve himself, Charles returns to Ireland, where he undertakes the preservation of the great and abandoned estate of Tipperary, in whose shadow he has lived his whole life–and which, he discovers, may belong to April and her father. As Charles pursues his obsession, he writes the "History" of his own life and country. While doing so, he meets the great figures of the day, and also falls victim to less well-known characters–who prove far more dangerous. TIPPERARY also features a second "historian": a present-day commentator, a retired and obscure history teacher who suddenly discovers that he has much at stake in the telling of Charles's story.

In this gloriously absorbing and utterly satisfying novel, a man's passion for the woman he loves is twinned with his country's emergence as a nation. TIPPERARY once again proves Frank Delaney's unrivaled mastery at bringing Irish history to life.