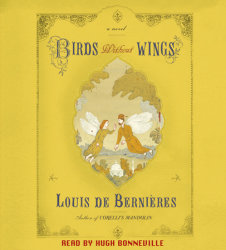 Birds without Wings
Imprint: Books on Tape
Genre: Fiction - Literary

Release Date: October 17, 2006
23 Hours and 9 Minutes
List Price: $95
ISBN: 9780739353264
Birds Without Wings traces the fortunes of one small community in southwest Turkey (Anatolia) in the early part of the last century—a quirky community in which Christian and Muslim lives and traditions have coexisted peacefully over the centuries and where friendship, even love, has transcended religious differences.

But with the disintegration of the Ottoman Empire and the onset of the Great War, the sweep of history has a cataclysmic effect on this peaceful place: The great love of Philothei, a Christian girl of legendary beauty, and Ibrahim, a Muslim shepherd who courts her from near infancy, culminates in tragedy and madness and two inseparable childhood friends who grow up playing in the hills above the town suddenly find themselves on opposite sides of the bloody struggle.

Far away from these small lives, a man of destiny who will come to be known as Mustafa Kemal Atatürk is emerging to create a country from the ruins of an empire. Victory at Gallipoli fails to save the Ottomans from ultimate defeat and, as a new conflict arises, Muslims and Christians struggle to survive, let alone understand, their part in the great tragedy that will reshape the whole region forever.