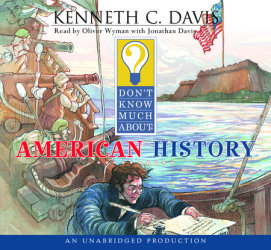 Don't Know Much About American History
Imprint: Listening Library
Grades: Grades 3-7
Ages: 8-12 years
Release Date: October 30, 2007
12 Hours and 15 Minutes
List Price: $42.50
ISBN: 9780739361344
Was Columbus the first European in the Americas?
What sport became more popular after the Civil War?
Were the Little Rock Nine a rock-and-roll band?
As bestselling author Kenneth C. Davis knows, history can be fun, fascinating, and memorable. In his trademark question-and-answer style -- peppered with surprising facts, historic reproductions, Davis introduces our ancestors who settled the East and expanded the West, as well as those who had been living here all along. His sure touch brings the drama and excitement of the American story vividly to life.