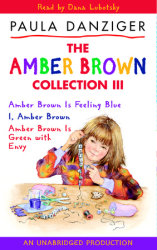 The Amber Brown Collection III
#7 Amber Brown Is Feeling Blue; #8 I, Amber Brown; #9 Amber Brown Is Green with Envy
Imprint: Listening Library
Grades: Grades 2-5
Ages: 7-10 years
Release Date: November 13, 2007
5 Hours and 37 Minutes
List Price: $38.25
ISBN: 9780739360293
Amber Brown's life is complicated by her parents' divorce and shared custody, but her irrepressible spirit, great friends, and sense of humor make her third- and fourth-grade escapades lively and entertaining.

In Amber Brown Is Feeling Blue, Amber has a big decision to make: spend Thanksgiving with Mom in Walla Walla, Washington, or with Dad in New York. Amber doesn't want to choose, but the grown-ups are leaving it up to her.

In I, Amber Brown, Amber's dad has moved back to New Jersey, which means shared custody. Soon Amber feels as if half of her belongs to her mom and half of her belongs to her dad. Amber decides that she needs to claim something for herself, and when the topic of ear-piercing comes up, she knows just what she's going to do! After all, don't her ears belong to her?

And in Amber Brown Is Green with Envy, Amber's parents just aren't acting the way she thinks parents should. Sometimes her dad goes out on dates when he is supposed to be spending time with her. And her mom went to Disneyland with Aunt Pam while Amber was with her dad (not fair!). Then Mom and Max decide to get married even sooner and move to a new house—maybe even a new town.