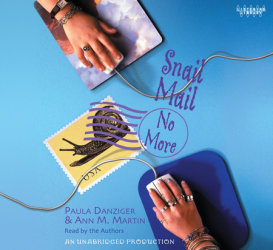 Snail Mail No More
Imprint: Listening Library
Grades: Grades 4-7
Ages: 9-12 years
Release Date: April 28, 2009
4 Hours and 37 Minutes
List Price: $32.30
ISBN: 9780739373897
In this powerful sequel to the acclaimed novel-in-letters P.S. Longer Letter Later, best friends Elizabeth and Tara*Starr are still totally different. Tara*Starr accessorizes with glitter and sequins and loves to be in the spotlight. Elizabeth loves to read and write poetry and hates to be the center of attention. Though the two live far from each other, they continue to correspond regularly–now via e-mail.

But distance–and unexpected life events, put the girls' friendship to the test. When Tara*Starr's parents announce her mother is pregnant, Tara*Starr has to get used to the idea of being a big sister for the first time. And just as Elizabeth adjusts to her parents' separation and realizes the extent of her father's alcoholism, life spins tragically out of control for her family

Through a correspondence more touching than ever, the lives and changing relationship of these two friends is chronicled with warmth, humor, and heart.