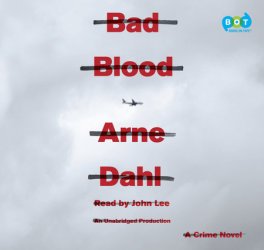 Bad Blood
A Crime Novel
Imprint: Books on Tape
Genre: Fiction - Mystery & Detective - General

Release Date: August 13, 2013
10 Hours and 39 Minutes
List Price: $85.50
ISBN: 9780307913876
In Arne Dahl's riveting follow-up to Misterioso, the Intercrime team is assigned the task of tracking down an American serial killer on the loose in Sweden—quietly, and as quickly as possible.
 
When a Swedish literary critic is found tortured to death in a janitor's closet at Newark International Airport, the police realize that the murderer made off with the victim's ticket and boarded a flight to Stockholm. Swedish authorities are placed on high alert, but the killer manages to slip through the customs dragnet and vanishes into the night.
 
With no clear motive in sight, Detectives Paul Hjelm and Kerstin Holm of Intercrime's A-Unit take over the investigation. They learn that the method of torture used was not only a highly specialized means of extracting information secretly developed during the Vietnam War—allowing the victim to whisper, but not to scream—but also that it was the modus operandi of an allegedly deceased homicidal maniac known only as the Kentucky Killer.
 
As additional victims are discovered on the outskirts of Stockholm and the terror grows, the team finds itself coming up empty-handed. Hjelm and Holm fly to New York, hoping to discover both the killer's identity and the source of his interest in Sweden. What they quickly learn, searching through the past, is that bad blood always comes back around.