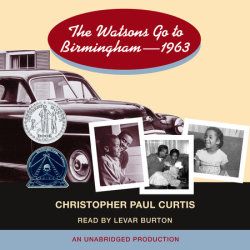 The Watsons Go to Birmingham - 1963
Imprint: Listening Library
Grades: Grades 3-7
Ages: 8-12 years
Release Date: October 17, 2006
4 Hours and 55 Minutes
List Price: $19.95
ISBN: 9780307243171
Categories:
Juvenile Fiction - People & Places - United States - African American & Black, Juvenile Fiction - Historical - United States - 20th Century, Juvenile Fiction - School & Education
Tags:
historical fiction, civil rights, african american, racism, family, alabama, history, humor, ya, michigan, birmingham, african americans, 1960s, young adult, civil rights movement, black history, historical, multicultural, brothers and sisters, children's, segregation, siblings, children, children's literature, race, juvenile, juvenile fiction, realistic fiction, coretta scott king honor, flint
Enter the hilarious world of ten-year-old Kenny and his family, the Weird Watsons of Flint, Michigan. There's Momma, Dad, little sister Joetta, Kenny, and Byron, Kenny's older brother, who, at thirteen, is an "official juvenile delinquent."

When Momma and Dad decide it's time for a visit to Grandma, Dad comes home with the amazing Ultra-Glide, and the Watsons set out on a trip like no other. Heading South, they're going to Birmingham, Alabama, and toward one of the darkest moments in America's history.

By turns comic, tragic, and touching, this remarkable Newbery Honor work, delightfully performed by LeVar Burton in this unabridged production, will delight listeners young and old as they meet Christopher Paul Curtis, a storyteller of bold ambition and a true and original voice and his inimitable Watsons.