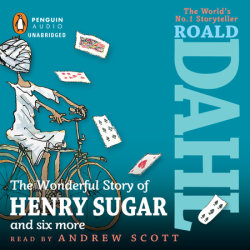 The Wonderful Story of Henry Sugar
Imprint: Listening Library
Grades: Grades 3-7
Ages: 8-12 years
Release Date: July 25, 2013
7 Hours and 3 Minutes
List Price: $50
ISBN: 9781101928578
"Roald Dahl sometimes shared a tonal kinship with Ogden Nash, and he could demonstrate a verbal inventiveness nearly Seussian…[His] stories work better in audio than in print." –The New York Times

Seven superb stories, from the world's no. 1 storyteller

Meet the boy who can talk to animals and the man who can see with his eyes closed. And find out about the treasure buried deep underground. A cleaver mix of fact and fiction, this collection also includes how master storyteller Roald Dahl became a writer. With Roald Dahl, you can never be sure where reality ends and fantasy begins.