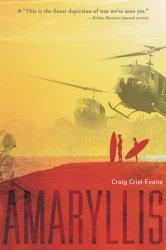 Amaryllis
Imprint: Listening Library
Grades: Grade 7 & Up
Ages: 12 and up
Release Date: December 08, 2009
4 Hours and 5 Minutes
List Price: $33
ISBN: 9780739386415
"This is a powerful tale of family, forgiveness, and acceptance of what life throws in our paths - but ultimately, with its almost painful realism, this is the finest depiction of war we've yet seen for young readers." — KIRKUS REVIEWS (starred review)

AMARYLLIS. It was the name of the ship that ran aground on Singer Island, Florida, during a hurricane in 1965. It became a battle cry for Jimmy Staples and his older brother, Frank, and a code word for going surfing together. But now that eighteen-year-old Frank is off battling the enemy (and his own addictive demons) in Vietnam and fifteen-year-old Jimmy is left to deal with the repercussions at home, "Amaryllis" takes on an ominous new meaning - a symbol of what happens when life places the unexpected in our paths.

Craig Crist-Evans has written a wrenching novel of a family whose internal battles chase one son away - into the clutches of a war and an enemy he could never have imagined. Told both from a soldier's view and by the brother he leaves behind, Amaryllis is an ideal choice for students learning about the Vietnam era, or for any listener curious about the reality of war.