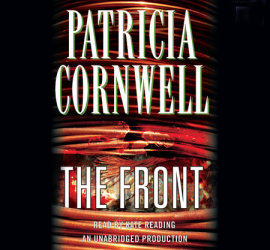 The Front
Imprint: Books on Tape
Genre: Fiction - Thrillers - Crime

Release Date: June 03, 2008
4 Hours and 34 Minutes
List Price: $57
ISBN: 9781415938188
The audacious new adventure of the At Risk team, from America's number-one-bestselling crime writer.

When Patricia Cornwell introduced the quicksilver, cut-to-the-bone style and extraordinary cast of characters of At Risk, the result was electrifying: "At Risk is Cornwell's finest novel. It works in every way possible—fascinating characters, solid plot, great pacing and expertly crafted prose" (St. Louis Post-Dispatch).

At Risk featured Massachusetts state investigator Win Garano, a shrewd man ofmixed-race background and a not inconsiderable chip on his shoulder; D.A. Monique Lamont, a hard-charging woman with powerful ambitions and a troubling willingness to cut corners; and Garano's grandmother, who has certain unpredictable talents that you ignore at your peril.

And in THE FRONT, peril is what comes to them all. D.A. Lamont has a special job for Garano. As part of a new public relations campaign concerning the dangers of declining neighborhoods, she's sending him to Watertown to come up with a "drama." Garano is very skeptical, because he knows that Watertown is also the home base for a loose association of municipal police departments called the FRONT, set up so that they don't have to be so dependent on the state. He senses a much deeper agenda here—but he has no idea just how deep it goes. In the days that follow, he'll find that Lamont's task, and the places it leads him, will resemble a house of mirrors—everywhere he turns, he's not quite sure if what he's seeing is true.