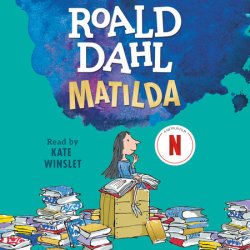 Matilda
Imprint: Listening Library
Grades: Grades 3-7
Ages: 8-12 years
Release Date: June 21, 2016
4 Hours and 19 Minutes
List Price: $29.99
ISBN: 9781611761849
Categories:
Juvenile Fiction - Fantasy & Magic, Juvenile Fiction - School & Education, Juvenile Fiction - Social Themes - Self-Esteem & Self-Reliance
Tags:
fantasy, children's, children, magic, humor, school, roald dahl, family, children's literature, children's fiction, classics, kids, classic, young adult, childhood, ya, funny, dahl, juvenile, british, england, children's books, telekinesis, girl, children's book, youth, genius, movie, juvenile fiction, 20th century
"Roald Dahl sometimes shared a tonal kinship with Ogden Nash, and he could demonstrate a verbal inventiveness nearly Seussian…[His] stories work better in audio than in print." –The New York Times

"The Trunchbull" is no match for Matilda!

Matilda is a sweet, exceptional young girl, but her parents think she's just a nuisance. She expects school to be different but there she has to face Miss Trunchbull, a kid-hating terror of a headmistress. When Matilda is attacked by the Trunchbull she suddenly discovers she has a remarkable power with which to fight back. It'll take a superhuman genius to give Miss Trunchbull what she deserves and Matilda may be just the one to do it!