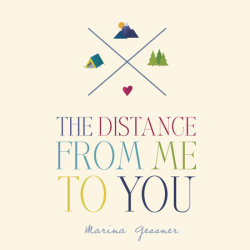 The Distance from Me to You
Imprint: Listening Library
Grades: Grade 7 & Up
Ages: 12 and up
Release Date: February 11, 2020
9 Hours and 23 Minutes
List Price: $56
ISBN: 9780593209196
Wild meets Endless Love in this multilayered story of love, survival, and self-discovery

McKenna Berney is a lucky girl. She has a loving family and has been accepted to college for the fall. But McKenna has a different goal in mind: much to the chagrin of her parents, she defers her college acceptance to hike the Appalachian Trail from Maine to Georgia with her best friend. And when her friend backs out, McKenna is determined to go through with the dangerous trip on her own. While on the Trail, she meets Sam. Having skipped out on an abusive dad and quit school, Sam has found a brief respite on the Trail, where everyone's a drifter, at least temporarily.

Despite lives headed in opposite directions, McKenna and Sam fall in love on an emotionally charged journey of dizzying highs and devastating lows. When their punch-drunk love leads them off the trail, McKenna has to persevere in a way she never thought possible to beat the odds or risk both their lives.