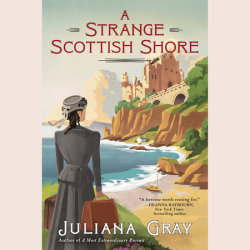 A Strange Scottish Shore
Imprint: Books on Tape
Genre: Fiction - Romance - Action & Adventure

Release Date: September 19, 2017
12 Hours and 18 Minutes
List Price: $95
ISBN: 9780525499053
The acclaimed author of A Most Extraordinary Pursuit brings a dazzling voice and extraordinary plot twists to this captivating Scottish adventure...
 
Scotland, 1906. A mysterious object discovered inside an ancient castle calls Maximilian Haywood, the new Duke of Olympia, and his fellow researcher Emmeline Truelove north to the remote Orkney Islands. No stranger to the study of anachronisms in archeological digs, Haywood is nevertheless puzzled by the artifact: a suit of clothing that, according to family legend, once belonged to a selkie who rose from the sea and married the castle's first laird.
 
But Haywood and Truelove soon realize they're not the only ones interested in the selkie's strange hide. When their mutual friend Lord Silverton vanishes in the night from an Edinburgh street, their quest takes a dangerous turn through time, which puts Haywood's extraordinary talents—and Truelove's courage—to their most breathtaking test yet.