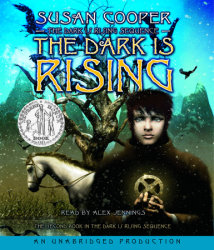 The Dark Is Rising
Imprint: Listening Library
Grades: Grades 3-7
Ages: 8-12 years
Release Date: September 11, 2007
8 Hours and 42 Minutes
List Price: $60
ISBN: 9780307207494
Categories:
Juvenile Fiction - Fantasy & Magic, Juvenile Fiction - Legends, Myths, Fables - Arthurian, Juvenile Fiction - Action & Adventure - General
Tags:
fantasy, young adult, ya, magic, children's, england, children, arthurian, mythology, adventure, dark is rising, children's fiction, children's literature, juvenile, king arthur, arthurian legend, kids, 20th century, british, merlin, wales, juvenile fiction, celtic, children's books, time travel, christmas, britain, children's fantasy, coming of age, youth
8 hours, 40 minutes
6 cassettes
Performed by Alex Jennings

On the Midwinter Day that is his eleventh birthday, Will Stanton discovers a special gift-- that he is the last of the Old Ones, immortals dedicated to keeping the world from domination by the forces of evil, the Dark. At once, he is plunged into a quest for the six magical Signs that will one day aid the Old Ones in the final battle between the Dark and the Light. And for the twelve days of Christmas, while the Dark is rising, life for Will is full of wonder, terror, and delight.