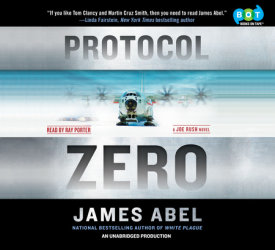 Protocol Zero
A Joe Rush Novel
Imprint: Books on Tape
Genre: Fiction - Thrillers - General

Release Date: August 04, 2015
13 Hours and 7 Minutes
List Price: $95
ISBN: 9781101914212
NEW FROM THE AUTHOR OF WHITE PLAGUE

Marine doctor and bio-terror expert Joe Rush returns in an electrifying new arctic adventure… "sure to wow fans of Michael Crichton and James Rollins" (Mark Greaney, #1 New York Times bestselling author of Tom Clancy Full Force and Effect).

 When authorities in Alaska receive a disturbing call from a teenage girl, their investigation leads them to discover an entire family of researchers dead. Joe Rush is called to help examine the bodies. On the surface, it looks like a brutal murder/suicide. But the situation is nowhere near that simple—nor is it over.
 
Upon closer investigation, Rush discovers the terrifying truth. The research team has fallen victim to something that seems impossible at first, yet the evidence looks undeniable in the lab. Now the danger may threaten thousands more.
 
Unfortunately, he's not the only one with knowledge of the looming disaster. The army has cordoned off part of Alaska, and Rush soon finds himself the target of trained killers. Someone suspects Rush of betraying his country. To save countless lives—starting with his own—Rush must uncover the answers hidden in the Arctic. The question is—will he find them in time?