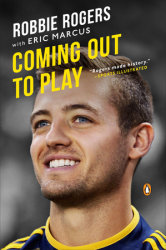 Coming Out to Play
Imprint: Books on Tape
Genre: Sports & Recreation - Soccer

Release Date: June 16, 2015
5 Hours and 1 Minutes
List Price: $47.50
ISBN: 9781101925171
The first openly gay professional athlete in North America tells the story of his landmark decision to come out of the closet and how he changed the playing field of professional sports forever.

"Rogers made history." —Sports Illustrated

Robbie Rogers knows better than most that keeping secrets can crush you. But for much of his life Robbie lived in paralyzing fear that sharing his big secret would cost him the love of his family and his career as a professional soccer player. So he never told anyone what was destroying his soul, both on and off the field.

While the world around Robbie was changing with breathtaking speed, he knew that for a gay man playing a professional team sport it might as well be 1958. He could be a professional soccer player.  Or he could be an out gay man. He couldn't do both. 

Then last year, at the age of twenty-five and after nearly stepping away from a brilliant career—one that included an NCAA Championship, winning the MLS Cup, and competing in the Olympics—he chose to tell the truth. But instead of facing the rejection he feared, he was embraced—by his family, by his teammates, and his fans. 

In Coming Out to Play, Robbie takes readers on his incredible journey from terrified teenager to a trailblazing out and proud professional soccer player for the L.A. Galaxy, who has embraced his new identity as a role model and champion for those still struggling with the secrets that keep them from living their dreams.