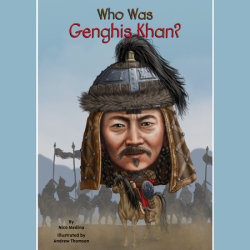 Who Was Genghis Khan?
Imprint: Listening Library
Grades: Grades 3-7
Ages: 8-12 years
Release Date: June 05, 2018
1 Hours and 4 Minutes
Play Clip: Embed
List Price: $22
ISBN: 9780525636939
Named Temujin at birth by his nomadic family in early Mongolia, the great Genghis Khan used his skill and cunning to create the Mongol Empire and conquer almost the entire continent of Asia. As ruler of the largest empire in human history, he was as respected as he was feared. Learn more about the man and the legend in Who Was Genghis Khan?