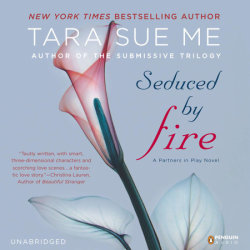 Seduced By Fire
A Partners in Play Novel
Imprint: Books on Tape
Genre: Fiction - Romance - Contemporary

Release Date: March 04, 2014
7 Hours and 21 Minutes
List Price: $57
ISBN: 9781101975244
Tara Sue Me became a worldwide phenomenon with the Submissive Trilogy. Now she presents a scorching tale about a risky passion too hot to ignore.…

Julie Masterson craves a taste of danger.

Despite being familiar with the different games people play in the bedroom, she's never given into her curiosity about putting her body in someone else's power—until a chance meeting with Daniel Covington, the seductive Senior VP of Weston Bank, draws her into a titillating new world of sexual experience, one that she never knew she desperately needed.

Daniel is highly respected within his community, but he hasn't had an exclusive relationship with anyone for over two years. Yet Julie's eager innocence is driving him to the brink of ecstasy, making him rethink his feelings about commitment.

As their sizzling connection heats up, Daniel is ready to take Julie fully under his command. But when the dangerous side of their play rears its ugly head, Julie will have to decide if she trusts him enough to surrender completely—or if she should escape before she gets burned...