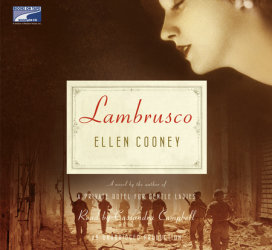 BOT Exclusive
Lambrusco
Imprint: Books on Tape
Genre: Fiction - Literary

Release Date: May 06, 2008
11 Hours and 27 Minutes
List Price: $85.50
ISBN: 9781415948866
The extraordinary Resistance movement of the Italian people in the Second World War is brought to life in a captivating, deeply moving story of a mother's search for her son, by the author of the widely acclaimed A Private Hotel for Gentle Ladies.

The year is 1943. Nazis have invaded Italy; American troops have landed. At Aldo's restaurant on the Adriatic coast, Lucia Fantini, wife of the late Aldo, entertained customers for years with her marvelous opera singing, but normal operations have ceased; the restaurant has been seized by nazifascisti, and a resistance squad of waiters and tradesmen has been formed, led by Lucia's son Beppino. When he disappears after acting on his own to destroy a German truck, Lucia asks, "What kind of a partisan are you, blowing something up without telling your mother?" and sets off to look for him.

Lucia is aided in her efforts by a richly drawn cast of characters, including Annmarie Malone, the American Army Intelligence officer who's a professional golfer back home; Tito Roncuzzi, the butcher who taught neighborhood dogs to pee on Fascists' boots, Etto Renzetti, the factory owner who scoffs at Dante, and Ugo Fantini, Aldo's physician cousin, who has reasons of his own for wanting to be near Lucia.

Lucia's journey across a war-devastated Italy is operatic in its scope and intensity. Ellen Cooney has drawn on her heritage as a third-generation Italian-American to invoke not only a country in crisis but also its literature, its moods, and, most of all, its music. This is a tale told with lyrical grace and an effervescent comic spirit to match the wine that nourishes them all--Lambrusco.