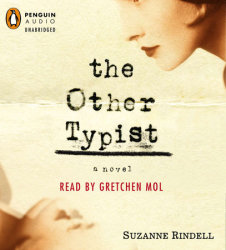 The Other Typist
Imprint: Books on Tape
Genre: Fiction - Literary

Release Date: May 07, 2013
10 Hours and 6 Minutes
List Price: $76
ISBN: 9781101928387
One of the most fascinating, unreliable narrators you'll read this year, for fans of
The Talented Mr. Ripley
and
Rules of Civility
.
It is 1923. Rose Baker is a typist in the New York City Police Department on the lower east side. Confessions are her job. The criminals admit to their crimes, and like a high priestess, Rose records their every word. Often she is the only woman present. And while she may hear about shootings, knifings, and crimes of passion, as soon as she leaves that room she is once again the weaker sex, best suited for making coffee.
It is a new era for women, and New York City is a confusing time for Rose. Gone are the Victorian standards of what is acceptable. Now women bob their hair short like men, they smoke, they go to speakeasies. But prudish Rose is stuck in the fading light of yesteryear, searching for the nurturing companionship that eluded her childhood and clinging to the Victorian ideal of sisterhood.
But when glamorous Odalie, a new girl, joins the typing pool, despite her best intentions Rose falls under Odalie's spell. As the two women navigate between the sparkling underworld of speakeasies by night, and their work at the station by day, Rose is drawn fully into Odalie's high stakes world and her fascination with Odalie turns into an obsession from which she may never recover.