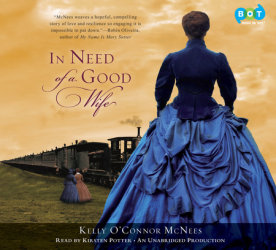 In Need of a Good Wife
Imprint: Books on Tape
Genre: Fiction - Historical - General

Release Date: October 02, 2012
9 Hours and 49 Minutes
List Price: $95
ISBN: 9780385363020
Richly detailed, vivid, and unforgettable, this is an extraordinary novel about three women challenging the American
West—and unpredictable fate—for a future only the most daring can secure…

For Clara Bixby, brokering mail-order brides is a golden business opportunity—and a desperately needed chance to
start again. If she can help New York women find husbands in a far-off Nebraska town, she can build an independent,
new life away from her own loss and grief.

Clara's ambitions are shared by two other women also willing to take any risk. Quiet immigrant Elsa hopes to escape
her life of servitude and at last shape her own destiny. And Rowena, the willful, impoverished heiress, jumps at the
chance to marry a humble stranger and repay a heartbreaking debt. All three struggle to find their true place in the
world, leaving behind who they were in order to lay claim to the people they want to be. Along the way, each must
face unexpected obstacles and dangerous choices, but they also help forge a nation unlike any that came before.