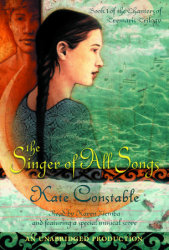 The Singer of All Songs
Book 1 of the Chanters of Tremaris Trilogy
Imprint: Listening Library
Grades: Grade 5 & Up
Ages: 10 and up
Release Date: October 10, 2006
8 Hours and 34 Minutes
List Price: $34
ISBN: 9780739349816
Calwyn knows nothing about the world beyond the Wall. She's never seen the golden stone of the city of kalysons or the wide waters of the Bay of Sardi. She hasn't heard the windworker's melodies in the Isles of Firthana or the occasional explosions from the colleges of Mithates. She knows only the rounds of her life as a novice ice priestess in Antaris, tending her bees, singing her chantments, and dreaming.

Enter Darrow, who speaks to Calwyn of discord in Tremaris, where chanters are hated for their gifts. And Darrow himself is being hunted by a man who was once his best friend is now the most powerful chanter of all.

To help Darrow, to escape Antaris, to see the world and perhaps save it, Calwyn will leave the safety of the Wall for a journey with a man she barely know - and an adventure as beautiful and dangerous as the music of chantment itself.