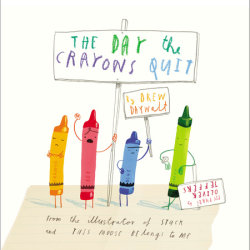 The Day the Crayons Quit
Narrator:
Drew Daywalt
,
Marichelle Daywalt
,
René Ruiz
,
James Patrick Cronin
,
Barrett Leddy
,
Robbie Daymond
,
John Lee
,
Tara Sands
,
MacLeod Andrews
,
Ron Butler
,
Kim Mai Guest
&
Max Meyers
Imprint: Listening Library
Genre: Juvenile Fiction - Concepts - Colors
Ages: 3-7 years
Release Date: January 04, 2022
0 Hours and 10 Minutes
List Price: $22
ISBN: 9780593459454
Crayons have feelings, too, in this funny back-to-school story -- now a #1 New York Times bestseller!
Poor Duncan just wants to color. But when he opens his box of crayons, he finds only letters, all saying the same thing: His crayons have had enough! They quit! Beige Crayon is tired of playing second fiddle to Brown Crayon. Black wants to be used for more than just outlining. Blue needs a break from coloring all those bodies of water. And Orange and Yellow are no longer speaking—each believes he is the true color of the sun.
What can Duncan possibly do to appease all of the crayons and get them back to doing what they do best?
Kids will be imagining their own humorous conversations with crayons and coloring a blue streak after sharing laughs with Drew Daywalt and New York Times bestseller Oliver Jeffers. This story is perfect as a back-to-school gift, for all budding artists, for fans of humorous books such as Don't Let the Pigeon Drive the Bus by Mo Willems and The True Story of the Three Little Pigs by Jon Sciezka and Lane Smith, and for fans of Oliver Jeffers' Stuck, The Incredible Book Eating Boy, Lost and Found, and This Moose Belongs to Me.
Audiobook cast of narrators:

Drew Daywalt as THE NARRATOR and PINK CRAYON
Marichelle Daywalt as RED CRAYON
René Ruiz as PURPLE CRAYON
James Patrick Cronin as BEIGE CRAYON
Barrett Leddy as GRAY CRAYON
Robbie Daymond as WHITE CRAYON
John Lee as BLACK CRAYON
Tara Sands as GREEN CRAYON
MacLeod Andrews as YELLOW CRAYON
Ron Butler as ORANGE CRAYON
Kim Mai Guest as BLUE CRAYON
Max Meyers as PEACH CRAYON