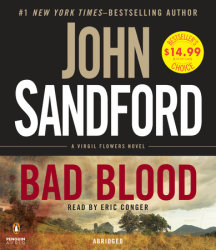 Bad Blood
a Virgil Flowers novel
Imprint: Penguin Audio
Genre: Fiction - Crime

Release Date: August 28, 2014
6 Hours
List Price: $14.99
ISBN: 9781611763447
Categories:
Fiction - Crime, Fiction - Thrillers - Suspense, Fiction - Thrillers - General
Tags:
mystery, virgil flowers, minnesota, thriller, crime, suspense, murder, police procedural, sexual abuse, child abuse, crime fiction, detective, police, cults, cult
The fourth thrilling novel in #1 New York Times bestselling author John Sandford's Virgil Flowers series.

Two bodies in two days. One is murder. The other is suicide. Virgil Flowers never imagined that discovering the connection would lead him into the perverse history of the Minnesota farm community, and almost unimaginable darkness.