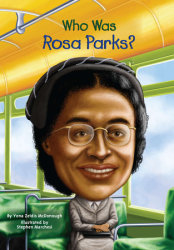 Who Was Rosa Parks?
Imprint: Listening Library
Grades: Grades 3-7
Ages: 8-12 years
Release Date: April 05, 2016
1 Hours and 9 Minutes
List Price: $22
ISBN: 9780451484444
In 1955, Rosa Parks refused to give her bus seat to a white passenger in Montgomery, Alabama. This seemingly small act triggered civil rights protests across America and earned Rosa Parks the title "Mother of the Civil Rights Movement."