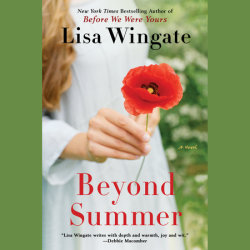 Beyond Summer
Imprint: Books on Tape
Genre: Fiction - Women

Release Date: February 11, 2020
13 Hours and 53 Minutes
List Price: $76
ISBN: 9781984890030
The #1 New York Times bestselling author of The Book of Lost Friends and Before We Were Yours presents an uplifting novel set in a small Texas neighborhood where unexpected challenges and new relationships give deeper meanings to "home."
 
When eighteen-year-old Tam Lambert learns that her family's upscale home is in foreclosure, the life she's known is forever changed. Tam and her family must move into a tiny house in a changing Dallas neighborhood called Blue Sky Hill...

New resident Shasta Reid-Williams knows nothing of real estate schemes when she and her husband purchase a home in Blue Sky Hill. To her it's the perfect place to raise her children. Better yet is getting to know Tam, who lives right across the street. When neighbors realize that a corrupt deal could force them from their homes, friendships and loyalties are tested. 

Over the span of one summer, two young women discover the strength and maturity to do the impossible. They find that even in Blue Sky Hill, life-altering relationships and amazing possibilities can begin to blossom...