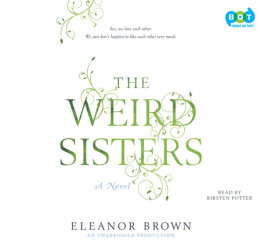 The Weird Sisters
Imprint: Books on Tape
Genre: Fiction - Women

Release Date: February 08, 2011
10 Hours and 26 Minutes
List Price: $85.50
ISBN: 9780307881731
"Bright, literate . . . a punchy delight."—Publishers Weekly (starred review)
 
Unlucky in work, love, and life, the Andreas sisters return to their childhood home. Each has a secret she's unwilling to share—each has come home to lick her own wounds. The Andreas family is an eccentric one. Books are their passion. Their father—a renowned professor of Shakespeare—named all three girls for great Shakespearean women—Rose (Rosalind), Bean (Bianca), and Cordy (Cordelia); as a result, the sisters find that they have a lot to live up to.
 
With this burden, the Andreas sisters have a difficult time communicating with their parents and their lovers, but especially with one another. What can the homebody and shy eldest sister, the fast-living and mysterious middle child, and the bohemian youngest sibling have in common? Why can't Rose leave her hometown for the man she loves? Why has glamorous Bean come home from New York City? And why has Cordy suddenly resurfaced after years of gypsy living? Each sister has found her life nothing like she had thought it would be—and now, as they are faced with their parents' frailty and their own disappointments and setbacks, their usual quick salve of a book can't solve what ails them.