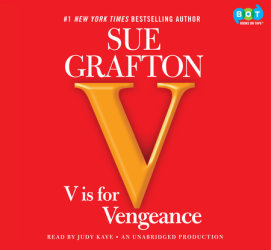 V is for Vengeance
Imprint: Books on Tape
Genre: Fiction - Thrillers - General

Release Date: November 14, 2011
15 Hours and 12 Minutes
List Price: $95
ISBN: 9780307704283
The new Kinsey Millhone novel from the #1 New York Times- bestselling author.

Kinsey on Kinsey: "I know there are people who believe you should forgive and forget. For the record, I'd like to say I'm a big fan of forgiveness as long as I'm given the opportunity to get even first."
-from V is for Vengeance

A woman with a murky past who kills herself-or was it murder? A dying old man cared for by the son he pummeled mercilessly. A lovely woman whose life is about to splinter into a thousand fragments. A professional shoplifting ring racking up millions in stolen goods. A brutal and unscrupulous gangster. A wandering husband, rich and powerful. A spoiled kid awash in gambling debt thinking he can beat the system. A lonely widower mourning the death of his lover, desperate for answers that may be worse than the pain of his loss. An elegant but ruthless businessman whose dealings are definitely outside the law: the spider at the center of the web.
And Kinsey Millhone, whose thirty-eighth-birthday gift is a punch in the face that leaves her with two black eyes and a busted nose.

V: Victim. Violence. Vengeance.