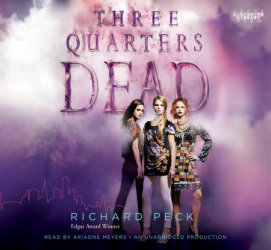 Three Quarters Dead
Imprint: Listening Library
Grades: Grade 7 & Up
Ages: 12 and up
Release Date: October 26, 2010
4 Hours and 11 Minutes
List Price: $26
ISBN: 9780307745842
Kerry is chosen by the coolest clique in school and so she thinks life has finally begun. But then it seems all over when her three friends are killed in a shocking car accident. Or are they? Only weeks after the accident, Kerry receives a text from one of the girls:
We're all 3 here at my aunt's in the city. Take the 3:50 train. B there.
Exhilarating, terrifying suspense is crossed with a thought-provoking examination of peer pressure in Richard Peck's return to his contemporary teen- and ghost-story roots. This is a master author's gift to the Gossip Girl/Twilight generation: his own smart, stylish, and fun take on the paranormal.