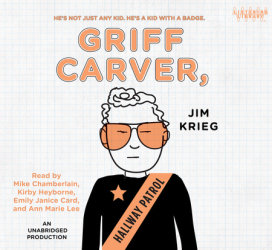 Griff Carver, Hallway Patrol
Imprint: Listening Library
Grades: Grades 3-7
Ages: 8-12 years
Release Date: March 08, 2011
5 Hours and 20 Minutes
List Price: $33
ISBN: 9780307915405
Griff Carver Knows a Thing or Two About Fighting Crime!

No, he cannot be bought. He cannot be frightened. And he will not sleep until justice is served. Because Griff Carver is not just any kid—he's a kid with a badge.  And if you are a rule breaker, he's your worst nightmare.

Griff might be the newest officer on the Rampart Middle School Patrol Squad, but he's no rookie. And he'll do whatever it takes to clean up the school's mean hallways, even if it lands him in trouble with the Old Lady (a.k.a. Mom).

But when he links cool kid, Marcus "The Smile" Volger, to a counterfeit hall pass ring, can Griff and his friends close the case? Or will his habit of ruffling feathers mean he'll let down the force—and lose his badge—for good?