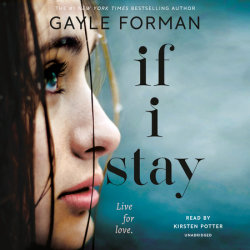 If I Stay
Imprint: Listening Library
Grades: Grade 9 & Up
Ages: 14 and up
Release Date: April 21, 2009
5 Hours and 2 Minutes
List Price: $38.25
ISBN: 9780739380857
Categories:
Young Adult Fiction - Coming Of Age, Young Adult Fiction - Social Themes - Self-Esteem & Self-Reliance, Young Adult Fiction - Girls & Women
Tags:
death, ya, young adult, romance, music, family, coma, grief, car accident, love, contemporary, cello, relationships, realistic fiction, teen, oregon, choices, friendship, accident, loss, car accidents, young adult fiction, tragedy, hospital, teens, coming of age, teen fiction, family relationships, musicians, tearjerker
YALSA Amazing Audiobooks for Young Adults
YALSA Quick Picks for Reluctant Readers
YALSA Best Books for Young Adults

"Just listen," Adam says with a voice that sounds like shrapnel.
I open my eyes wide now. I sit up as much as I can. And I listen.
"Stay," he says.

Choices. Seventeen-year-old Mia is faced with some tough ones. Stay true to her first love–music–even if it means losing her boyfriend and leaving her family and friends behind?

Then, one February morning Mia goes for a drive with her family, and in an instant, everything changes. Suddenly, all the choices are gone, except one. And it's the only one that matters.