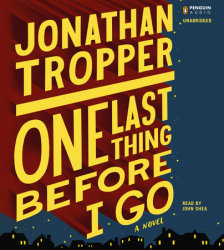 One Last Thing Before I Go
Imprint: Books on Tape
Genre: Fiction - Literary

Release Date: August 21, 2012
8 Hours and 19 Minutes
List Price: $76
ISBN: 9781101979433
Following the New York Times bestseller This Is Where I Leave You, Jonathan Tropper's latest novel is a moving, funny look at one broken family's attempt to reconnect
—
without destroying each other in the process.
Silver has begun to accept that life isn't going to turn out as he expected. His ex-wife is about to marry a terrific guy Silver can't quite bring himself to hate. And his Princeton-bound teenage daughter Casey has just confided in him that she's pregnant—because he's the one she cares least about letting down. With the wedding looming and Casey in crisis, this broken family struggles, bonds, and comes together only to risk damaging each other even more. Lives begin anew, change radically, or in Silver's case—as he discovers that he could die at any moment without an operation he refuses to have—may be about to end in an instant.
One Last Thing Before I Go demonstrates yet again Tropper's deft touch with the darkest of materials and his ability to make readers laugh out loud in one paragraph and move them to tears in the next.