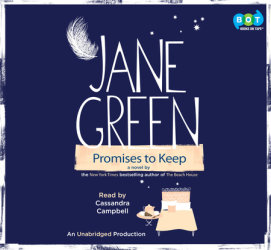 Promises to Keep
A Novel
Imprint: Books on Tape
Genre: Fiction - Women

Release Date: June 15, 2010
11 Hours and 52 Minutes
List Price: $95
ISBN: 9781415948651
Callie Perry is a successful family photographer living in tony Bedford, New York. She adores her children, has great friends, and actually doesn't mind that her workaholic husband gets home at 9 p.m. every night. Steffi is Callie's younger sister, and unlike her irrefutably settled sibling, Steffi has never grown up. She's always been a free spirit, living in Manhattan. But she will discover another side of herself—one that finds a simpler life in the country, with its steadier pleasures, surprisingly seductive.


Lila Grossman is Callie's best friend and has finally met the man of her dreams. But there's a problem: a demanding harridan ex-wife who is determined to create a perennial crisis to keep attention firmly on her. And then there are Callie and Steffi's parents. Divorced for thirty years, they rarely speak to each other. They may share two grown-up daughters, but it's obvious they share little else.


Promises to Keep is about the hard choices we have to face, about having to be your parents' child long after you've grown up, and finally, about the enduring nature of love.