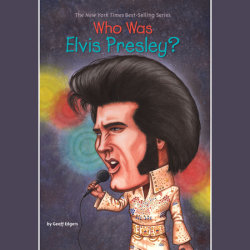 Who Was Elvis Presley?
Imprint: Listening Library
Grades: Grades 3-7
Ages: 8-12 years
Release Date: March 26, 2019
0 Hours and 50 Minutes
List Price: $22
ISBN: 9780525629382
Put on your blue suede shoes and get ready for another addition to the Who Was…? series! The King could not have come from humbler origins: Born in Tupelo, Mississippi, during the Depression, he grew up with the blues music of the rural South, the gospel music of local churches, and the country-western classics. But he forged a sound all his own—and a look that was all his own, too. With curled lip, swiveling hips, and greased pompadour, Elvis changed popular music forever, ushering in the age of rock and roll.