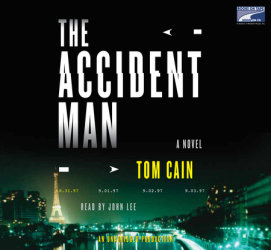 The Accident Man
Imprint: Books on Tape
Genre: Fiction - Thrillers - General

Release Date: February 19, 2008
12 Hours and 18 Minutes
List Price: $95
ISBN: 9781415947029
Breathlessly paced and featuring one of the most intriguing heroes in recent fiction, Tom Cain's THE ACCIDENT MAN surprises the reader at every turn. For a certain sum of money, Samuel Carver will arrange a death. A ruptured gas line, an automobile crash, a fall from a window; anything can look like an accident. But then Carver is hired to carry out a job below a bridge in Paris. The date is August 31, 1997. Set up, betrayed, pursued by the very forces that hired him, Carver must execute his most daring feat yet.

A thriller of the grandest sort, THE ACCIDENT MAN races above and below the streets of Paris, across Europe, and by storms at sea. It is also a startling introduction to a hero engaged in the act of "moral violence." With the dissolution of world powers, with everything and anything for sale, how does one justify death? Samuel Carver–a clouded man of determined action–will come to understand the prices to be paid.

You have never met a hero quite like Samuel Carver. You will never forget him.