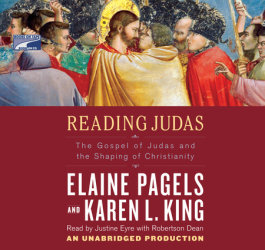 Reading Judas
The Gospel of Judas and the Shaping of Christianity
Imprint: Books on Tape
Genre: Religion - Gnosticism

Release Date: March 06, 2007
3 Hours and 47 Minutes
List Price: $57
ISBN: 9781415936849
The unveiling of the long-lost Gospel of Judas has stirred controversy not just among biblical scholars and those interested in the gospels that were excluded from the New Testament but among all those brought up on the story of Judas as the ultimate betrayer. Now two leading experts on the Gnostic gospels tackle the important questions posed by this exciting discovery. The answers lead deep into the agonizing disputes and exultant visions of God that ultimately came to shape Christianity.

Working from Karen King's brilliant new translation of the fragmentary gospel, Elaine Pagels and King give us the context we need for considering its meaning. The Gospel of Judas, along with other newly discovered writings, restores the vibrant and tumultuous picture of early Christianity, a time of intense reflection, experimentation, and struggle involving every fundamental issue of human life.

READING JUDAS raises compelling issues––about the nature of God, the meaning of Jesus's death, the suffering of martyrs, and much else––issues as important today as they were nineteen centuries ago.