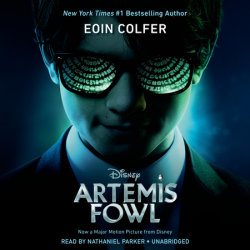 Artemis Fowl Movie Tie-In Edition
Imprint: Listening Library
Genre: Juvenile Fiction - Media Tie-In
Ages: 10-14 years
Release Date: June 27, 2006
6 Hours
List Price: $19.99
ISBN: 9780593294260
Categories:
Juvenile Fiction - Media Tie-In, Juvenile Fiction - Fantasy & Magic, Juvenile Fiction - Action & Adventure - General
Tags:
fantasy, young adult, fairies, artemis fowl, adventure, ya, magic, children's, science fiction, children, ireland, humor, crime, juvenile, genius, elves, action, kids, children's fiction, kidnapping, children's literature, eoin colfer, faeries, teen, fairy, irish, england, middle grade, youth, urban fantasy
Now an original movie on Disney+, here is the book that started it all, the international bestseller about a teenage criminal mastermind and his siege against dangerous, tech-savvy fairies.

New York Times bestselling author, Eoin Colfer and series, Artemis Fowl!

Twelve-year-old criminal mastermind Artemis Fowl has discovered a world below ground of armed and dangerous--and extremely high-tech--fairies. 

He kidnaps one of them, Holly Short, and holds her for ransom in an effort to restore his family's fortune.

But he may have underestimated the fairies' powers. Is he about to trigger a cross-species war?