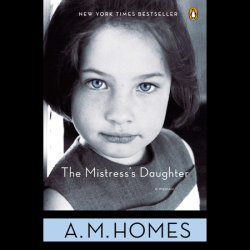 The Mistress's Daughter
Imprint: Books on Tape
Genre: Biography & Autobiography - Personal Memoirs

Release Date: April 10, 2007
5 Hours and 31 Minutes
List Price: $66.50
ISBN: 9781415939444
A.M. Homes was given up for adoption before she was born. Her biological mother was a twenty-two-year-old single woman who was having an affair with a much older married man with children and a family of his own. THE MISTRESS'S DAUGHTER is the riveting story of what happened when, thirty years later, her birth parents came looking for her.

Homes relates how her birth parents initially made contact and what happened afterward (including a harrowing account of her birth mother stalking her and appearing unannounced at a reading). She goes on to explore what she was able to reconstruct about their lives; who they had been and who they later became. Her birth mother, a complex and lonely woman who never married, dies in 1998; her birth father, who initially makes overtures about inviting her into his family, never does. Homes becomes obsessed with the family histories of both her biological and adoptive parents. She spends hours poring through newspaper archives and genealogical websites on an ersatz archaeological dig, hiring researchers to help uncover the hidden family narrative in a twenty-first-century electronic search for self.

THE MISTRESS'S DAUGHTER is a brave, profoundly moving consideration of identity and family and, like all of A.M. Homes's work, is daring, heartbreaking, and startlingly funny.