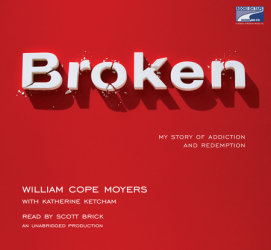 Broken
Imprint: Books on Tape
Genre: Biography & Autobiography - Personal Memoirs

Release Date: July 06, 2010
13 Hours and 47 Minutes
List Price: $95
ISBN: 9780307876348
In October 1994, William Cope Moyers was lying flat on his back on the floor of an Atlanta crack house. His father, veteran journalist Bill Moyers, had put together a search party while his worried family waited at home, where he had abandoned them three days earlier. Many times before, his life had unraveled from the effects of frequent marijuana, cocaine, and alcohol binges, but it was his crack addiction and relapse that he remembers caused his father to look into the eyes of his cherished firstborn son and utter the words "I hate you."

Today, William Cope Moyers has been sober for twelve years and is the vice president for external affairs at the Hazelden Foundation in Minnesota. He uses his own experiences to carry the issues of addiction and recovery into the public arena, especially to policy makers and civic groups across America, and reaches out to the addicted and their families. 

This harrowing and wrenching memoir paints a picture of a young man with every advantage who nonetheless found himself spiraling into a dark and life-threatening abyss. Beautifully written with a deep underlying spirituality, Moyers's story is a missive of hope for the millions of Americans struggling with addiction, and an honest and inspiring account that is both heartrending and redemptive.