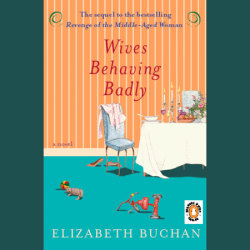 Wives Behaving Badly
Imprint: Books on Tape
Genre: Fiction - Women

Release Date: July 06, 2010
9 Hours and 51 Minutes
List Price: $76
ISBN: 9780307876270
WHAT COULD BE SWEETER THAN REVENGE? THE SEQUEL

The tables have turned on Minty Lloyd. The once irresistible mistress now finds herself deeply uneasy in her role as the second wife to her husband Nathan and mother of their twin boys. Though she has finally achieved the comfort and stability she once craved, family life has brought her more disappointment than she can admit, and she is yearning to rekindle the ambition she has left behind. She is also struggling, yet determined, to make her marriage work. "The trouble is," she cries, "everything I do is secondhand."
Meanwhile Rose, Nathan's first wife, is still high from her victorious revenge and making her living as a glamorous travel journalist. Her life has never been more exhilarating and it shows. And, as Minty now sees only too clearly, her hold on Nathan is both disquieting and deep. Dark and destructive notes of jealousy and bitterness reverberate through the new marriage until a dramatic and unforeseen event forces both women to negotiate their love and grief in unexpected ways.
Revealing with humor and poignancy that things are not always what they seem, WIVES BEHAVING BADLY is an irresistible story of love, loss, and renewal that explores the nature of friendship, survival, and the bonds that sometimes grow strongest when stretched to breaking.