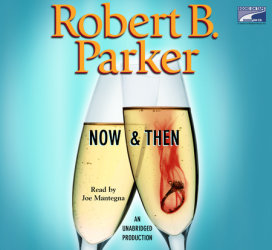 Now & Then
Imprint: Books on Tape
Genre: Fiction - Thrillers - Crime

Release Date: October 23, 2007
5 Hours and 29 Minutes
List Price: $47.50
ISBN: 9781415943205
Spenser knows something's amiss the moment Dennis Doherty walks into his office. The guy's aggressive yet wary, in the way men frightened for their marriages always are. So when Doherty asks Spenser to investigate his wife Jordan's abnormal behavior, Spenser agrees. A job's a job, after all.

Not surprisingly, Spenser catches Jordan with another man, tells Dennis what he's found out, and considers the case closed. But a couple of days later, all hell breaks loose, and three people are dead. This isn't just a marital affair gone bad. Spenser is in the middle of a hornet's nest of trouble, and he has to get out of it without getting stung.

With Hawk watching his back and gun-for-hire Vinnie Morris providing extra cover, Spenser delves into a complicated and far-reaching operation: Jordan's former lover Perry Alderson is the leader of a group that helps sponsor terrorists. The Boston P.I. will use all his connections–both above and below the law–to uncover the truth behind Alderson's antigovernment organization. Alderson doesn't like Spenser poking around his business, so he decides to get to him through Susan Silverman. But what Alderson doesn't realize is that Spenser will do anything to keep Susan out of harm's way; nothing will keep him from the woman he loves.