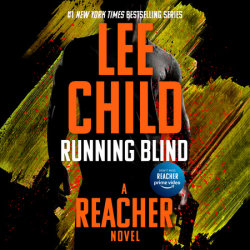 Running Blind
Imprint: Penguin Audio
Genre: Fiction - Thrillers - Suspense

Release Date: October 30, 2012
13 Hours and 30 Minutes
List Price: $95
ISBN: 9781101928158
Categories:
Fiction - Thrillers - Suspense, Fiction - Thrillers - Crime, Fiction - Thrillers - Military
Tags:
jack reacher, thriller, mystery, crime, reacher, suspense, fbi, action, serial killer, military, crime fiction, adventure, murder, lee child, jack reacher series, mystery-thriller, usa, new york city, serial killers, detective, 21st century, paint, child, virginia
Jack Reacher races to solve the perfect crime in the fourth novel in Lee Child's #1 New York Times bestselling series.

DON'T MISS REACHER ON PRIME VIDEO!

Across the country, women are being murdered, victims of a disciplined and clever killer who leaves no trace evidence, no fatal wounds, no signs of struggle, and no clues to an apparent motive. They are, truly, perfect crimes. In fact, there's only one thing that links the victims. Each one of the women knew Jack Reacher—and it's got him running blind.