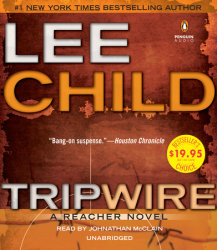 Tripwire
Imprint: Penguin Audio
Genre: Fiction - Thrillers - Suspense

Release Date: March 07, 2013
15 Hours
List Price: $19.99
ISBN: 9781611761931
Categories:
Fiction - Thrillers - Suspense, Fiction - Thrillers - Crime, Fiction - Thrillers - Military
Tags:
thriller, jack reacher, mystery, crime, reacher, suspense, action, new york, vietnam war, vietnam, lee child, military, key west, florida, adventure, crime fiction, murder, american, new york city, jack reacher series, detective, mystery-thriller, ex-police officers, violence, extortion, 20th century, child, military police
Reacher's anonymity in Florida is shattered by an investigator who's come looking for him. But hours after his arrival, the stranger is murdered. Retracing the PI's trail back to New York, Reacher's compelled to find out who was looking for him and why. He never expected the reasons to be so personal--and twisted.