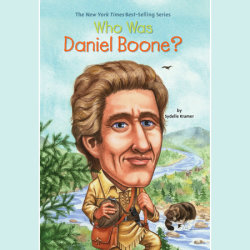 Who Was Daniel Boone?
Imprint: Listening Library
Grades: Grades 3-7
Ages: 8-12 years
Release Date: March 26, 2019
1 Hours and 15 Minutes
List Price: $22
ISBN: 9780525629627
Called the "Great Pathfinder", Daniel Boone is most famous for opening up the West to settlers through Kentucky. A symbol of America's pioneering spirit Boone was a skilled outdoorsman and an avid reader although he never attended school. Sydelle Kramer skillfully recounts Boone's many adventures such as the day he rescued his own daughter from kidnappers.