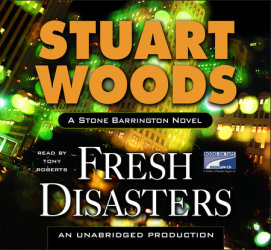 Fresh Disasters
Imprint: Books on Tape
Genre: Fiction - Thrillers - Suspense

Release Date: April 10, 2007
7 Hours and 35 Minutes
List Price: $57
ISBN: 9781415936757
With his previous audiobook, Dark Harbor, Stuart Woods proved once more that he is the master of the offbeat thriller. Now he outdoes himself with FRESH DISASTERS, the newest edition of the Stone Barrington series.

Stone embarks on his most dangerous adventure yet when a chance encounter with the wrong man sends him straight into the heart of New York's Mafia underworld. It starts as just another late night at Elaine's and ends with Stone forced to deal, yet again, with the hapless Herbie Fisher, the bane of his existence. Stone finds that what should have been a throwaway case instead leads right to a powerful mob boss with a notoriously bad temper and long reach. Fortunately for Stone, the twists of the case also take a more congenial turn–sending a little romance his way, and giving him another opportunity to try to rescue a beautiful woman distress. But as the danger deepens, Stone is left to wonder if he can disentangle himself from this lawless mess before he winds up–as his friend Dino likes to put it–"at the bottom of Sheepshead Bay with a concrete block up his ass."

With the often hilarious action, razor-sharp characters, and crackling dialogue that are his hallmarks, FRESH DISASTERS is Stuart Woods at the pleasurable height of his storytelling powers.