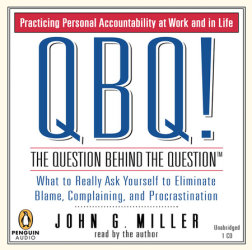 QBQ! The Question Behind the Question
Practicing Personal Accountability at Work and in Life
Imprint: Penguin Audio
Genre: Business & Economics - Development - Business Development

Release Date: May 05, 2015
1 Hours and 30 Minutes
List Price: $14.99
ISBN: 9780143057093
Categories:
Business & Economics - Development - Business Development, Self-Help - Self-Management - Stress Management, Religion - Christian Living - General
Tags:
business, leadership, self-help, accountability, management, personal development, psychology, motivational, self-improvement, productivity, communication
This is a quick but deep book that explores the role of personal accountability in one's work and personal life. In his own work experience, Miller found that many people look for others to blame their problems and conflicts on. He proposes that instead of asking who is to blame for the situation, we should ask, "What can I do to improve the situation?" Only by being able to ask this "question behind the question" can we take ownership of the problem and start working toward a solution...